Alan Syliboy


Mi'kmaq artist, Alan Syliboy, lives on the Millbrook First Nation reserve at the edge of Truro, Nova Scotia. His work is representative of the traditional rock art made by the Wabanaki who were part of the ancient Eastern Woodland Indian culture.
"Like many others in my generation, I grew up believing that native art was generic - what you see on TV and in other mass media. But", he argues, "Visual expressions are part of what makes a culture unique, and, although Mi'kmaq designs are similar to other North American woodland tribes, you can easily recognize the difference."
As a youth, Alan was unsure of his talents. "In the beginning I found painting painful and difficult because I was unsure of my identity."
But his confidence grew when he studied privately with Mi'kmaq artist Shirley Bear and then attended the Nova Scotia College of Art and Design, (where 25 years later, in 1997, he was invited to sit on the Board of Governors.)
Alan Syliboy uses the indigenous Mi'kmaq petroglyph traditions for inspiration and developed his own artistic vocabulary out of those forms. His brushes and pens most often lead him to images of family and friends.
"Most of my subjects deal with the concept of family - their searches, struggles and strength. All of these things are part of my art, and my art gives me strength for my continuing spiritual quest."
With two sons and a daughter to support Alan experimented with ways of marketing his art.
He had some of his images printed on T-shirts and began selling them door to door - first on his own reserve then to other reserves in Nova Scotia and the Maritime Provinces. His intuition was well-founded.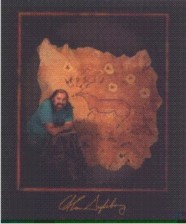 "Most of my native customers hadn't known the traditional designs of their own people. Most Mi'kmaq don't go to museums on Sunday afternoons," he quips. "But there was a sense of pride in being able to recognize the images as part of their personal heritage and wear it emblazoned on their chest."
Alan says of his art, "As my exploration of painting and my understanding of Mi'kmaq spiritualism expanded, my confidence and ability grew with it. Since my family is where I'm centered, everything else is exterior."
Collections
National Aboriginal Achievements Foundation
Mashantucket Pequot Indian Nation
Art Gallery of Nova Scotia
Bank of Montreal (featured on cheques)
Canada Post Corporation
Dept of Indian & Northern Affairs - National Collection
Nova Scotia Teachers College
Owens Art Gallery
Numerous Private Collections

Return to Native Artists