Joe Sanchez

In the 1970's,  native artist Joe Sanchez, was an American draft dodger trying to make a living in Winnipeg, Manitoba. It was about the time that Daphne Odjig and her husband Chester Beavon had opened up Odjig Prints and Gifts in downtown Winnipeg and at the same time they were busy organizing local and regional artists to form the organization called Professional Indian Native Artist's Inc. They more or less took Joe under their wing so he became a founding member of the Indian Group of Seven by default.
Joe Sanchez was born in the Taos Pueblo, but raised on the White Mountain Apache Reservation. He says that he decided in the fourth grade that he would be an artist and a few years later imagined himself as a young Jack Kerouac hobnobbing with artists in Paris.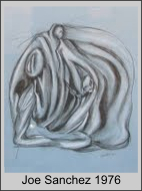 But it wasn't until he met Daphne Odjig and other Canadian First Nations artists that he focused on art as a career. He says that Daphne was his biggest mentor and encouraged him to paint, draw and sculpt.
His connection to Odjig and his membership in the Indian Group of Seven led to his participation in group exhibits in Canada, Europe and the United States with the other artists of note - Norval Morrisseau, Alex Janvier, Jackson Beardy, Eddie Cobiness and Carl Ray.

Joe Sanchez is currently curator at the Institute of American Indian Arts Museum.

Sanchez left Canada during the US bicentennial and helped form two Indian artist collectives in the Phoenix area. He was one of the first staff members of the Scottsdale Center for the Arts and later worked at the Phoenix Museum.
The two paintings above (and another from 1976) are available for sale from the Wahsa Gallery at the Forks in Winnipeg.
---
Influence of the Indian Group of Seven
---