Native-Art-in-Canada has affiliate relationships with some businesses and may receive a commission if readers choose to make a purchase.

Alex Janvier

Alex Janvier is Member of the
Indian Group of Seven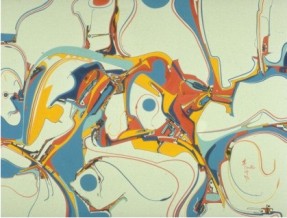 Denesuline artist, Alex Janvier, is a member of the Cold Lake First Nation,Treaty 6 in Alberta.  He was a founding member of the Professional National Indian Artists Incorporation, an association that in 1973 was created in Winnipeg to promote native art in Canada.
There were seven founding members and Gary Scherbain, at the time a reporter at the Winnipeg Free Press, referred to the organization as the Indian Group of Seven...a name that has been getting more traction now that I've been publicizing it far and wide.
Alex Janvier was born in 1935 to one of the last hereditary chiefs of the Dene on Le Goff Reserve in Alberta. His mother was Saulteaux (Ojibwa).
When he was eight he was removed from his family and sent to the Blue Quills Indian Residential School near St. Paul Alberta. It wasn't an entirely negative experience because at the school he was encouraged to explore his talent for painting.
His high school years were spent at St.Thomas College in North Battleford after which he was tutored for two years by Professor Carlo Altenberg at the University of Alberta.
Janvier entered the Alberta College of Art in Calgary in 1956 and graduated four years later. This was as exceptional accomplishment for a First Nations man of his generation.

He went on to instruct for a time at the University of Alberta's Department of Education.
Janvier's style is generally linear, abstract and non-representational. The image above, was an earlier work available at the Red Kettle Gallery,
From 1961 to 1977 Janvier, like Eddy Cobiness, made a political statement by signing paintings with his treaty number.
By 1964 his work began appearing in solo and group exhibitions across Canada and internationally. Over the years commissions included numerous murals including Tsa Tsa Ke Ke  at Rogers Place in Edmonton and a diptych at the Legislative building in that city.

A retrospective exhibition at The Art Gallery of Alberta in 2012 included more than ninety paintings some of which were exhibited for the first time.
The National Gallery of Canada hosted a traveling exhibition of Alex Janvier's works between 2016 and 2018.
Alex is slowing down, but he has a few paintings available for sale which you can see at his website here.

 Selected collections
Canada Council Art Bank, Ottawa ON
Canadian Museum of Civilization, Hull, PQ
Cinader Collection, Toronto ON
Indian and Northern Affairs Canada, Ottawa ON
Edmonton Public School Board, Edmonton AB
Esso Emerging Artists Collection, Calgary AB
Lester B Pearson Collection, Ottawa ON
McMichael Canadian Art Collection, Kleinberg ON
Mendel Art Gallery, Saskatoon SK



Influence of the Indian Group of Seven