Native-Art-in-Canada has affiliate relationships with some businesses and may receive a commission if readers choose to make a purchase.

First Nations' Art in the Beginning
First Nations' Art and the Ojibwa Legend Painters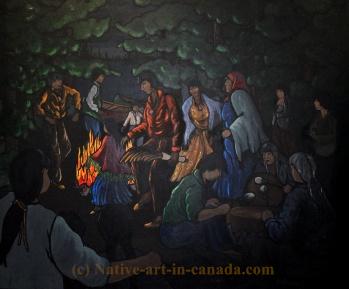 I'm writing about First Nations' art with a big emphasis on Ojibwa art . . . not because I'm playing favourites...honest! It's a logistics issue! 

I want to start at the beginning and it's important to note that Canadian native art wasn't really on the radar screen until Norval Morrisseau stormed  Toronto in the 1960's and the fact is that Norval was Ojibwa. 
He launched the concept of the Ojibwa legend painters and created an opportunity for his people and the world to talk about Anishnabe culture, spirituality and beliefs.  He was the source of the cultural revival that the Ojibwa and First Nations art is experiencing today.  
Before Norval came on the scene, First Nations' art existed, of course.  Artists like Daphne Odjig, Kanai painter Gerald Tailfeathers, and Cree painters Allen Sapp and Alex Janvier, had been painting for years, but they hadn't made the whole country sit up and take notice of native culture.  In her early years as a painter Daphne's imagery appealed to a mainstream audience but didn't speak to her own people.
It was Morrisseau's success that gave birth to the concept of a culture based artistic possibility, but it was the formation of the Indian Professional National Indian Artist's Association under the leadership of Daphne Odjig a decade later,  that helped create Woodland Art as an important new concept in the world of Canadian native art.
It wasn't that the organization itself did much, but individuals within the association inspired young people to consider art as a career. And given that it was Ojibwa artists that were sharing their skills, it's no surprise that it was young Anishnabe men and women who stepped up to the plate.
The First Legend Painters
For example, on his return from his sold out first show in Toronto, Morrisseau began mentoring his teenage brothers-in-law, Joachim and Goyce Kakegamic. The result was that those young men, their brother Henry and father David opened their own screen printing business, Triple K Cooperative in Red Lake, Ontario to produce and market their own images and works by other emerging artists.

And when Daphne Odjig and Carl Ray taught at the Manitou Arts Foundation - a short lived summer school on Manitoulin Island - they, too, inspired the second wave of young Ojibway artists.
Note:  You've probably noticed that I use alternate spellings  - ojibwe, ojibwa and ojibway.  The reason is that people use those spellings when they search the internet, not really because I forget from one moment to the next how to spell.  (Grin)


The earliest years of Canadian aboriginal art
The name given to the seven native artists who were members of the Professional National Indian Artist's Incorporation by Winnipeg Free Press reporter, Gary Scherbain.

That's me.