Native-Art-in-Canada has affiliate relationships with some businesses and may receive a commission if readers choose to make a purchase.

Carl Beam

Native Artist :  1943 - 2005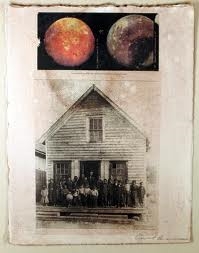 Ojibwa artist Carl Beam was born in M'Chigeeng on Manitoulin Island. He has exerted a strong influence on a whole generation of First Nations artists and has been instrumental in the development of the art of Canada's First Nations.
He obtained a B.F.A. from the University of Victoria in 1974 and continued his studies in an M.F.A. program at the University of Alberta.
His artwork, executed in diverse media such as drawing, watercolour, etching, non-silver photography, photo transfer, installation and ceramics. His work is generally characterized by the juxtaposition of autobiographical, commercial, photographic, and art historical references, evoking the dissonance between Euro-American and Native cultures.
In New Mexico in 1980, Beam mastered Anasazi pottery techniques and a decade later applied adobe rammed earth architecture to the construction of ecologically-sound buildings on Manitoulin Island, Ontario. On commission, Beam constructed a large-scale work, Exorcism, for the Thunder Bay Art Gallery and was artist in residence at Artspace in Peterborough, Ontario, in 1988.
His workhas been exhibited throughout North America as well as in Italy, Denmark, Germany and China. It is found in major Canadian and international collections, the Art Gallery of Ontario, the Vancouver Art Gallery and the Albright-Knox Gallery in Buffalo, N.Y. His painting The North American Ice-berg became the first Native artwork purchased by the National Gallery of Canada since 1927.
In 2000, Carl Beam was inducted into the Royal Canadian Academy of the Arts. Prior to his death in July 2005 he resided in M'Chigeeng.
Recent Exhibitions
1997 Transitions: Contemporary Canadian Indian and Inuit Art.
Indian and Northern Affairs Canada and the Department of Foreign Affairs and International Trade, Paris France (traveling Canada and France)
1996 The Helen Band Collection.
Thunder Bay Art Gallery, Thunder Bay, Ontario
1993 Italian Exhibition of the Columbus Boat.
Arnold Goodfield Gallery, Toronto, Ontario (traveled in Italy)
Seeing a New World: The Works of Carl Beam and Frederic Remington.
Gettysburg College Art Gallery, Gettysburg, Pennsylvania

1992 Contemporary First Nations Art.
Ufundi Gallery, Ottawa, Ontario
New Territories: 350/500 Years After.
Les Maisons de la Culture, Montréal, Québec
Carl Beam, the Columbus Boat.
The Power Plant, Toronto, Ontario

1991 Art of the First Nations.
Woodland Cultural Centre, Brantford, Ontario
1990 Re-enactment: Between Self and Other.
The Power Plant, Toronto, Ontario

Return to Native Artists