Native-Art-in-Canada has affiliate relationships with some businesses and may receive a commission if readers choose to make a purchase.

Francis Kakige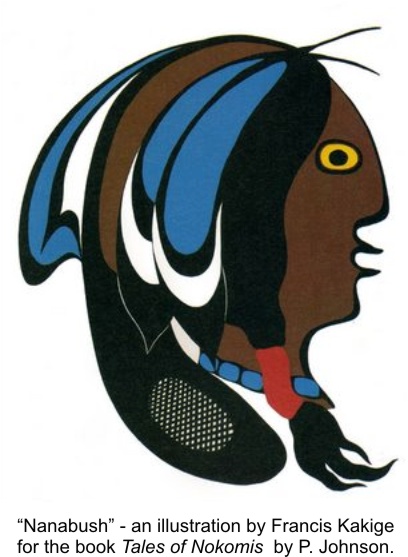 Francis Kagige was born in 1929 and went to the same school in Wikiwemigong as Daphne Odjig.
He was one of the first generation of Manitoulin artists born before World War II whose career became possible because Norval Morrisseau had broken the taboo against sharing the the stories that were the foundation of the Anishnaabe concept of the universe.
Kakige's hard edged images emulated Morrisseau's and defined him at the time as one of the new Woodland or legend painting artists.
He tried to express the feelings and the impact that he experienced hearing traditional Ojibwa stories but he was best known for the paintings he provided to illustrate Tales of Nokomis by Patronella Johnson.
Kakige, along with Tom Hill from the Seneca Six Nations Reserve at Brantford, Alex Janvier from the Chippewyan nation at Cold Lake, George Clutesi from the Tseshaht first Nation near Prince George, Gerald Tailfeathers from the Blood Reserve south of Calgary, Norval Morrisseau and Carl Ray from Sandy Lake in Ontario and Cree painter Jackson Beardy from Manitoba, took part in the first international show of native art at Expo '67 in Montreal.

Return to Native Artists