Native-Art-in-Canada has affiliate relationships with some businesses and may receive a commission if readers choose to make a purchase.

Gayle Sinclaire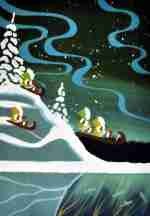 From the Kinosao Sipi First Nation, Gayle Sinclair was raised in Norway House in Northern Manitoba but currently lives and paints in Winnipeg, Manitoba. 
As a fine Arts student at the University of Manitoba Gayle began her formal inquiry into the concepts of colour and composition, the effects of light and how content can give significance to culture and spirituality.
Nowadays her imagery tends to focus primarily on women and children...affirming the important role women have always played in First Nations culture.
Her publisher, Gary Scherbain of the Wahsa Gallery says that besides celebrating the family unit , "Most works also have a literal or symbolic connection with nature...birds, leaves, water...and they inject a srong spiritual quality to her art."

In September 1998 the gallery published two Sinclaire serigraphs (edition 150), and in conjunction with her February 2002 one-artist show at the gallery, issued four art cards depicting the four components used in traditional aboriginal ceremonies: cedar, sweet grass, sage and tobacco. Two new mother and child images were published in conjunction with Sinclaire's second solo show at the Wah-sa Gallery in September 2004. She has also participated in the annual Miniatures and Almost shows, where in 2003, the "Little people" series was introduced., and the 2003, 04 and 05 June theme shows.

In the fall of 2003, Sinclaire was one of seven artists chosen for the Image Makers First nations Art Exhibit in Los Angeles.

More recently Gayle Sinclaire has completed a commission for Indian and Northern Affairs Canada. Her work is in the collections of the Manitoba Assembly of Chiefs, the community offices in Norway House, and Cross Lake -- not to mention the homes and offices of numerous private patrons.

Return to Native Artists