Native-Art-in-Canada has affiliate relationships with some businesses and may receive a commission if readers choose to make a purchase.

Gerald Tailfeathers

1925 - 1975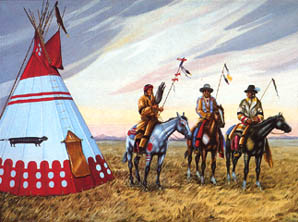 Born on the Standoff Reserve in Alberta in 1925, Blood Indian artist Gerald Tailfeathers had extensive formal art training. He began his schooling at Saint Mary's Lake Summer Art School, but in 1941 he studied at the Banff School of Fine Art under the direction of Charles Comfort, Walter Phillips and H.G. Glyde. The following year he moved to the Provincial Institute of Art and Technology in Calgary to learn about commercial design. Gerald worked as a graphic artist for the Hudson's Bay Company but at the same time completed prodigious amounts of work in charcoals, pastels, watercolours, temperas, pen and ink as well as oils. By1957 he began to stress historical accuracy.

His career spanned a period of time when native art wasn't much recognized by galleries or the buying public. But, he received commissions for paintings for the Indians of Canada Pavilion at Expo '67 in Montreal, the Glenbow Museum in Calgary and for Canada Post.
Interestingly, before 1962 he'd signed his works Gerald T. Fethers.
Gerald Tailfeathers died in 1975.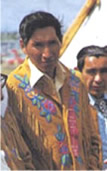 Posthumous exhibitions include
1992 Time for Dialogue, Calgary, Alberta
1983 Contemporary Indian Art at Rideau Hall, Ottawa, Ontario
1981 Tradition and Change in Contemporary Indian Art, Edmonton
Selected collections
Canadian Museum of Civilization, Hull Quebec
Indian and Northern Affairs Canada, Ottawa, Ontario
Galt Museum, Lethbridge, Alberta
Glenbow Museum, Calgary, Alberta

Early Native Artists in Canada
Other Native Artists