Native-Art-in-Canada has affiliate relationships with some businesses and may receive a commission if readers choose to make a purchase.

Jasyn Lucas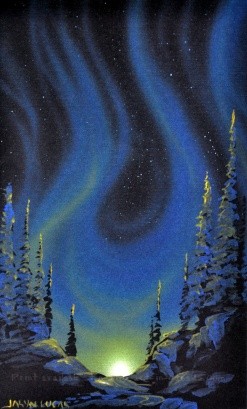 Jasyn Lucas - Northern Lights
Jasyn Lucas was born in Flin Flon, Manitoba in 1979. He's a member of the Mathias Colomb Cree Nation but grew up in Thompson where as a young teen was influenced by other northern artists such as Eddie Munroe, Jeff Monias and Earl McKay. He took his first painting lessons from Earl when he was 12.
A year after graduating from high school in Thompson he struck out for Vancouver where he studied printmaking, drawing, sculpture and painting as a student in the Studio Art Program at Capilano College. He graduated in 2003 and returned to Thompson a year later where he has been experimenting with various media and applications. He travels regularly to native art shows and shows in galleries when the opportunity presents itself.
He says, " My paintings pay tribute to those real moments in our lives that make you feel so real that it becomes surreal. The serenity and peace around you at the time is all that counts, and for a brief moment you forget all the hussle...the hussle that comes with surviving in a cut throat cycle of society, in the concrete world of consumerism and fog, and for that one moment you remember exactly how delicate and precious our natural resources are. Protect our environment so we can protect our memories. "
Jasyn Lucas has won a variety of prizes including four Peoples Choice Awards, three at the Northern Juried Art Show and one through the Manitoba Arts Network Rural and Northern Show. In 2008 he received the Youth National Aboriginal Achievement Award in VisualArts.

Return to Native Artists
Home