Native-Art-in-Canada has affiliate relationships with some businesses and may receive a commission if readers choose to make a purchase.

Jeff Monias


Jeff Monias - The Caribou
Jeff Monias is a wildlife painter - an Ojibwa/Cree raised in Garden Hill, in the Island Lake area 350 miles northeast of Winnipeg.
Like so many of today's native artists, he grew up on a trap line close to the animals that would one day inspire his imagery.
As a young boy he liked to draw and his father, Percy Monias, suggested he concentrate on the birds and animals that wondered past their house and their campsites. Over the years he internalized the bone structure, growth and pattern of fur and feather, attitude, movement and habitat of the wildlife around him. He paints, not from photos or field sketches, but directly from his own remembered experience.
His first drawing tools included charcoal leftover from campfires and the lead from rifle shells. In his mid-teens Jeff began to experiment with oils which he borrowed from his brother and cousin who are also artists. But a few years later he tried acrylics and that is the medium he uses today.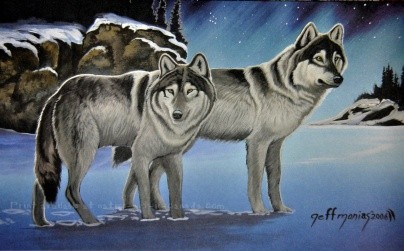 Jeff's late father remains a major and a positive influence on him and his work. "When I feel uncertain about something, I only have to think of my father's advice," he says.
Mr. Monias has sold many of his works to corporations and private collectors alike, including: The Assembly of Manitoba Chiefs, Manitoba Hydro, Tribal Council Investment Group, Native Communications Inc., and Cargill.
Jeff Monias is represented by Wahsa Gallery in Winnipeg.
---
Return to Native Artists
Home
---