Native-Art-in-Canada has affiliate relationships with some businesses and may receive a commission if readers choose to make a purchase.

Joshim Kakegamic

Joshim Kakegamic was One of the Original Woodland Artists


Joshim Kakegamic was born at Sandy Lake, Ontario in 1952. He began painting as a teenager in the late sixties under the guidance of his Ojibwa brother-in-law, Norval Morrisseau, and Cree artist, Carl Ray who were holding workshops on local reserves at the time.  When they began holding demonstration classes in schools across northeastern and southern Ontario he went along as an assistant.
In 1969, he participated in a group show in North Bay followed by a series of shows in various venues in northwestern Ontario. He continued to paint in North Bay for two years before returning to Sandy lake.
Shortly after, Josh enrolled in a month long workshop at Fanshawe College in London, Ontario.  He ws introduced to the possibilities provided by screen printing and it was the inspiration he needed to take ,a serious look at how he and others could make a living as artists.  He began painting seriously.
He returned to southern Ontario to learn screen printing techniques at Open Studio in Toronto.

By 1973,  with the help of his brothers Goyce and Henry and his father, David, he established a screen printing business known as the Triple K Cooperative. It was modeled after a company Daphne Odjig had set up in 1970 - Indian Prints of Canada Ltd.
He had a major exhibition in 1977 at Toronto's Aggregation Gallery.  But all through that decade and the next, he took part in a number of exhibitions throughout Ontario, other sites in Canada, as well as on a group show Woodland Indian Art Exhibition at Canada House in London, England and Lahr, Germany.
Josh Kakegamic drowned in 1993 while attempting a rescue on a lake in Northern Ontario.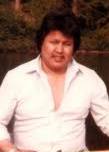 His work is in private and public collections in Canada and abroad, including Simon Fraser University Art Center, the McMichael Canadian Collection and The Royal Ontario Museum.


Influence of the Indian Group of Seven