Native-Art-in-Canada has affiliate relationships with some businesses and may receive a commission if readers choose to make a purchase.

Robert Kaykaygeesick Jr.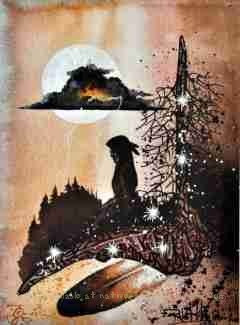 Ojibwa artist Robert Kakaygeesick Jr was born in Warroad, Minnesota in 1948 but is a member of the Buffalo Point First Nation in southeastern Manitoba where he lives with his wife Jackie. He has dual Canadian and American citizenship.
Working mainly in watercolours, Robert uses traditional symbols and stylized images in an attempt to bring the consciousness of the past into present day conversation.
His imagery is rooted in the values and and spiritual beliefs of his Ojibwa heritage.
The cycle and unity of life are portrayed in the circles and mists that so often appear in his paintings, in the offerings of tobaco and in the ascending images of both women and men as they metaphorically stretch to touch the mystery of life.
This image "Vision Seeker" was included in a solo exhibition held at Winnipeg's Wahsa Gallery in 2002.

Return to Native Artists
Home