Native-Art-in-Canada has affiliate relationships with some businesses and may receive a commission if readers choose to make a purchase.

Shirley Cheechoo

The Second Wave of Woodland Artists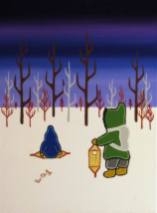 Shirley Cheechoo was born in 1952 in Eastmain, Quebec and is a member of the James Bay Cree Nation. She grew up in Moose Factory and Hearst Ontario and draws on memories of her childhood when she paints. Trapping and fishing were part of her family's lifestyle.
Shirley was one of the young people who attended art classes at the Manitou Arts Foundation during the summer of 1966. Organized by Tom Peletier, the workshops were taught by Daphne Odjig and Carl Ray as part of their committment to encouraging young people to consider an art career.
In one sense her imagery falls easily into the idea of woodland art - naive, stylized and two dimensional imagery painted with an intense colour pallette, outlined in black. But like Daphne Odjig, Shirley explores the human landscape rather than representations of legendary spiritual beings.
Shirley Cheechoo has also extended her career into theatre and film and has gained recognition as an actor, writer, producer and director.
She gained natonal attention in the theatre with her play Path with No Moccasins. The play gave her an opportunity to speak about her life and the struggle to retain identity and Cree heritage.
Her film debut as a director was in association with the award winning short film Silent Tears in which she chronicles the events of one harsh winter trip with her parents to a northern trap line when she was eight years old.
She also teaches drama workshops to Native youth across Ontario, and is the founder of Debahjehmujig Theatre Group, a touring youth drama company now in it's 24th year.
As a respected visual artist, her paintings have been exhibited worldwide. Her commissions include: Christmas cards for UNICEF, Amnesty International, The Ontario Native Women's Association and the Hospital for Sick Children.
In February 2008, Shirley Cheechoo was awarded a Lifetime Achievement Award in the area of art by the National Aboriginal Achievement Foundation.

Return to Native Artists
or return to Indian Group of Seven Influence

Home