Native-Art-in-Canada has affiliate relationships with some businesses and may receive a commission if readers choose to make a purchase.

Terry McCue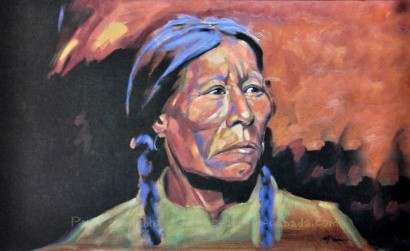 Ojibwa artist Terry moved to Alberta in 1976 and continues to call that province home. For nineteen years, Terry worked as a facilitator conducting workshops across Canada to train substance abuse workers in Native communities.
During that time he worked as a freelance illustrator, producing a variety of works including posters, book covers, and illustrations for addiction manuals. He used this work to continually develop his skills as an artist.
Terry's work can be found in private and corporate collections in Canada and the United States.

Terry McCue is a self-taught painter, who spent time in his youth watching his cousin Arthur Schilling and learning from him. Arthur Schilling still influences Terry's paintings. Terry's paintings reflect the four principles that sum up his philosophy.

ARTIST STATEMENT

Humanity is an integral part of creation. Humor is spiritual sustenance. Respect for the natural world, and our place in it, is the key to personal understanding. We are magical beings living in a magical world.
Collections
Province of Manitoba
Government of Canada, Dept of Foreign Affairs
Alberta Foundation for the Arts


Exhibitions
2011-12 Narrative Quest, Royal Alberta Museum, Edmonton, AB
2011 Canada House Gallery, Banff, AB
2008 Canada House Gallery, Banff, AB
2006 Solo Exhibition, Canada House Gallery, Banff, AB
2006 Dynamic Demo Day, Canada House Gallery, Banff, AB
2006 Joy Exhibition, Canada House Gallery, Banff, AB
2005 Best of the Best, Group Exhibition, Canada House Gallery, Banff, AB
2005 Joy Exhibition, Canada House Gallery, Banff, AB
2004 Demo Days, Canada House Gallery, Banff, AB
2003 Simply Trees, Canada House Gallery, Banff, AB
2002 Feel Good Art, Canada House Gallery, Banff, AB
2001 Year of the Great Bear, Canada House Gallery, Banff, AB


Publications
2011 Rocky Mountain Outlook review
2009 Rocky Mountain Outlook review

Return to Native Artists
Home