Native-Art-in-Canada has affiliate relationships with some businesses and may receive a commission if readers choose to make a purchase.

Joe Sanchez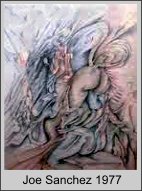 Joe Sanchez was born in Trinidad Colorado, but raised on the White Mountain Apache Reservation in Arizona. 
He enjoyed art classes in elementary school and as a young man imagined himself as a young Jack Kerouac hobnobbing with artists in Paris. After highschool he took a stab at a religious life and briefly joined the priesthood.   By 1968 he had joined the Marine Corps and while training young draftees for service in Vietnam he realized a fighting career wasn't what he wanted either. 
By 1970 Sanchez was an AWOL American Marine trying to make a living in Manitoba. He met and married Ann Krajek, a young Canadian photographer and the couple put a down payment on a ranshackle acreage in the southern part of the province near Giroux.

It was about the time that Ojibwa artist Daphne Odjig and her husband Chester Beavon, had opened Odjig Prints and Gifts in downtown Winnipeg.   Daphne and Chester more or less took Joe under their wing.  Daphne encouraged him to think seriously about art as a career choice.  Given that employers weren't lining up to offer him a job and the fact that he felt an immediate affinity with many of the other young men that were also emerging native artists, he took the bait.
Pushed by her husband and encouraged by Jackson Beardy, to formalize an organization that could further their ideals, Daphne invited Jackson, Eddy Cobiness, Alex Janvier, Norval Morrisseau, Carl Ray and Joe to a meeting in her home. They discussed common concerns and possibilities for the future and The Professional National Indian Artists Inc, funded by Indian Affairs, grew out of the meeting.

Joe Sanchez had been in the right place at the right time.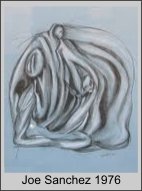 His connection to Odjig and his membership in the Professional Native Indian Artists Incorporated led to his participation in group exhibits in Canada, Europe and the United States with the other artists.
It was Winnipeg Free Press reporter, Gary Scherbain who gave them the moniker The Indian Group of Seven.
But Joe was on the periphery of the woodland art movement.  He only came to Canada to escape being sent to Vietnam.  He was an American and he wanted to go home.

On his first full day in office on January 21, 1977 President Jimmy Carter fulfilled a campaign promise and declared unconditional pardons to the hundreds of thousands of men who had fled the United States to avoid being drafted to serve in the Vietnam War.
Sanchez left Canada for Arizona.  He continued painting and with the experience of working with PNIA fresh in his mind, helped form two Indian artist collectives in the Phoenix area. He was one of the first staff members of the Scottsdale Center for the Arts and later worked at the Phoenix Museum.
But his career as a curator and educator outstripped his impact as an artist.

Joe Sanchez is currently curator at the Institute of American Indian Arts Museum.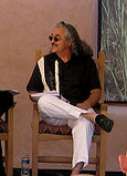 The two paintings above (and another from 1976) were available for sale from the Wahsa Gallery at the Forks in Winnipeg.  The gallery has changed owners but anyone interested in buying the pieces can contact me and I'll help you track them down.
---
Influence of the Indian Group of Seven
---