Native-Art-in-Canada has affiliate relationships with some businesses and may receive a commission if readers choose to make a purchase.

Sweet Pea

aka Woodland Artist Leo Neilson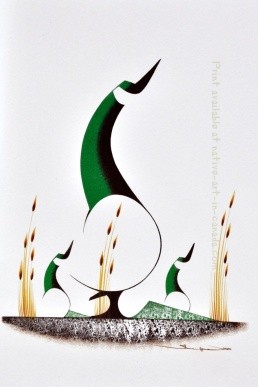 Sweetpea (Leo Neilson) is an Ojibway from Peguis, Manitoba. His mother was from "The Golden Gate of St. Peters" reserve and it was she who gave him the name nickname when he was a little boy. The name stuck, even when they later moved to Winnipeg, Manitoba.
Leo was strongly influenced by the artistry of Benjiman Chee Chee. It was through the efforts of Garry Meeches, another Ojibway artist, that Sweetpea began painting and creating his own free and open style, accomplished by the use of acrylic paint, a sponge and a brush.
Sweetpea's first International showing was held in Pasedena, California in March of 1987 and resulted in the majority of his exhibited works being sold out within three days. A subsequent show in Denver, Colorado, sponsored by the Indian Arts and Crafts Association met with similar success.
Since then he has shown in many exhibitions, some of the more notable ones are:
Art of Man Gallery - Victoria, B.C.
Midtown Gallery - Winnipeg, MB.
Northern Traditions - Winnipeg, MB.
Warehouse Artworks - Winnipeg, MB.
Sweetpea is the only Native artist in Manitoba to have his artwork put on signs for the City of Winnipeg Transportation Dept. and these signs now grace the Chief Peguis Trail in Winnipeg.

Return to Native Artists
Home